Owning a small business can be as easy as starting in your spare room and putting in the hours until you require more substantial office space. However, as your business grows, you will inevitably need to employ other members of staff.
Whether this is to help with admin, sales, marketing, design, you are now responsible for ensuring your team of employees are happy in their roles and the workplace you have cultivated; you need to offer them a business and office space that makes them want to come to work every day.
Before making a move, it is important that you know exactly what position the market it is, and what commercial property space will be right for your needs.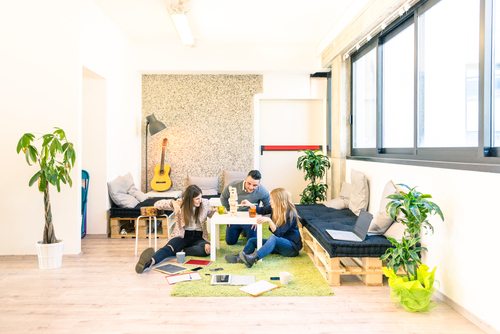 The Property Market Today
The UK commercial property market was expected to tumble following the Brexit vote result in June 2016; however, the reality is quite the opposite.
In fact, when it comes to commercial property in the UK, the real estate that is available to buy or rent for business owners is still in high demand. This ensures that rents and mortgages are staying competitive. Businesses looking to make a move to bigger premises should make the most of the opportunities that are currently on the market.
Choosing your Office Space
Now that the timing is right, how else can you ensure that you choosing the right office space real estate for your growing business?
There are a number of considerations you need to make.
Choose a Suitable Location
Not only do you and your staff need to be able to travel to your offices conveniently every day, but clients and guests need to be able to find you, too. This is essential if you have plans to grow your business further in the coming years. Not all members of staff will be able to drive, so having amenities, eateries, and shops nearby can also make an office space much more attractive.
Know your Budget
It is essential that you know exactly how much your business can afford to pay out for real estate, especially when you are starting out. While having enough room for growth in the near future is essential, there is no point looking at commercial property that can comfortably house 50 employees when you have just five. Be realistic on your search!
The Building and Neighbourhood
If you are a business that supplies high-end, luxury products and services to the world's elite, then your offices need to reflect this. Choosing a location that is in the middle of an industrial estate might not be the best idea, whereas a smart office in a modern complex might be more suitable.
Ensuring you choose to buy or rent in a building that is right for you, and a neighborhood that gives the right impression to your clients and visitors.
Cultivate the Right Environment
The environment that you cultivate behind closed doors is equally as important as the office building itself. Whether you are based in a big city like London and Manchester or a smaller town around the UK, you have the ability to make your business one that people want to work for.
Once you have settled on an office space, design and decorate accordingly. By all means, utilize on-brand designs, but ensure they have a purpose.
The right color scheme will stimulate and motivate while others can leave people feeling un-energised
Breakout space is important as the working week can be quite taxing on employees
Office designs should be practical and flexible – you never know what the future will hold!
Allow plenty of storage and comfortable working spaces – especially desks and chairs – for all employees
Ensure there is plenty of natural light
No green space nearby? Add plants and flowers to the office
Regularly get together with your staff on a social level – even if it's just at lunch time
Celebrate milestone achievements and share good news with the whole business
By utilising these top tips, we are sure that your business will grow from strength to strength with ease. What's more, whether you are looking to buy or rent, the commercial property market is primed and ready for those looking to take the risk today, so don't get left behind – act today.